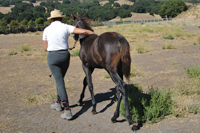 The Foals
We handle our foals daily from the time of birth, starting with putting on a foal halter and teaching them to walk on a lead line. Farrier visits become part of the schedule, beginning by gently picking up their feet. Basic ground manners are established early and the foals look forward to the daily interaction with the people who groom and care for them.

After weaning, foals are groomed while being tied and learn to respect the handler's space while being groomed and led. Because of the Morgan breed's good nature and intelligence, these first steps are usually fun and easy. Aside from grooming, handling, and occasional visits from the Vet and Farrier, our foals are left out at pasture to run and grow as nature intended.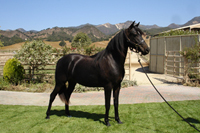 Early Training
The next stage of training usually starts in the spring of the young horse's third year. Depending on the size and maturity of the individual, this date can be adjusted earlier or later.
The young horse is first introduced to free longeing and basic voice commands and gradually progresses to longeing with a bit and then with a saddle. Depending on the individual, this period usually lasts 3-4 months, after which the youngster is then turned out again to grow and mature until the fall.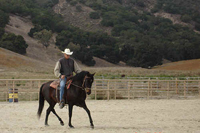 Starting Under Saddle
The fall of our young horse's third year is ideally when we start their training under saddle. Our goal is to give them a basic start, enabling them to go on with more specific training later, so they can compete in any division that an owner might choose or to simply become a wonderful pleasure horse.
This stage of training is much less stressful for the horse (and Trainer!) because of the extensive handling and ground work we have done through out their lives. Once the young horse is going well under saddle, they are given the winter off to complete his growing and digest all that he has learned.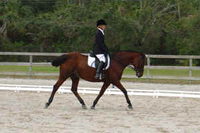 Identifying the Horse's Talents
As four year olds, most Morgans are ready to start their training in earnest. By this time many of our foals and young horses will have new homes and will be on their way to new careers. For the individuals that we keep, it is time to assess their abilities, talents and disposition to decide what they are best suited for.
At this point we may send a horse to an outside trainer for a period of time or, if we have a dressage prospect, we may elect to continue the training at Merriewold. Whichever path is chosen, our goal is to capitalize on the natural talents of our Morgans, producing competitive horses in the discipline that best suits them.

Merriewold Morgans' Manager/Trainer
Jackie Brittain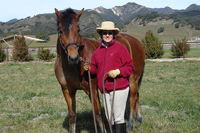 The training of a horse begins at birth and continues throughout it's life. Jacqueline A. Brittain is responsible for the day-to-day care and training of our horses. She is a life long equestrian who truly puts the welfare of the horse first. Because of her many years of caring for and training Thoroughbred race horses, she also has expert knowledge in equine conformation, nutrition, injuries and medications.
Her many jobs at MWM include all aspects of horse management, care, training, breeding arrangements and total farm management. Her particular specialty is in developing a young horse to it's best capabilities in performance and as a pleasurable equine partner.