A History With Horses
As a child, I demonstrated an encompassing love for horses and a desire to make them a part of my life. My parents needed to find me a suitable place to ride, after many rental stables proved to be unsafe. Lessons ensued and the need for a first horse, which turned out to be a pony named Colonel. The show ring followed with me competing by age groups, then division and with that process the need for better mounts. I continued showing through high school and won many divisions in saddle seat equitation including four AHSA Saddle Seat Equitation medals, which qualified me for the finals at Madison Square Gardens.

These goals had to be put on hold as college became a priority. I studied animal science at the University of Florida. During that time in college, I lived in Ocala, Florida. It's an area of thoroughbred horse breeding. I worked for farms breaking yearlings for the race track. It took a lot of nerve and sometimes I wonder how I survived. This experience kindled a great interest in training horses for the track, when I realized I could have a career in the horse industry.

I continued working my way up the ropes of the race track and, when I graduated from the University of Florida with a bachelors degree in animal science, I decided to pursue my trainer license. Through contacts that I had made, while working for the various farms, I was able to get a start at the New Jersey race track, Monmouth Park. I obtained my state trainers license and worked for some wonderful people that gave me my first break into racing.

However, I still wanted to return to Florida and race on the Florida circuit. Alone, it was difficult to break into the highly competitive, tight-knit world that was run by large powerful stables. It took everything in me not to give up as it seemed every step was a test of endurance and conviction to succeed.

I was fortunate, however, to have horses possessing ability and talent, which helped to open doors and promote my own talents as a trainer. Believe me, you don't learn the art of training horses from a person or people. You learn from your daily experiences. Your success depends on how you deal with the decisions you make and the consequences.

I continued at the tracks in Florida and built a public racing stable of 20 horses. During that time, I trained for Keith Wold, to whom, I will always be thankful. The horses he gave me to train were fine. Our successes were many, as Dr. Wold's horses won many high caliber stake races - including, a Kentucky Derby prospect and a Breeder's cup prospect. Through Keith Wold, I met his daughter, Diana. (Read all about Diana here)

It was an interesting partnership that began with the two of us. Diana's father asked us to set up a stable of pleasure horses on his ranch in Okeechobee, Florida. Triple Diamond Ranch had once been the broodmare farm for his race horses. The same horses that I trained for him. When Diana and I got to work on the ranch, we had existing horses there, which happened to be Morgans that her father had bought. The Morgans really struck a great love in Diana and for me it was a return to a breed of horse that I once showed and loved.

I eventually moved to the ranch, because I wanted a slower paced life style and one that I could pursue riding dressage with Morgan horses. Diana has a mission to breed sport Morgans with a sensitivity to special qualities that I find make a great horse. And I decided to follow - and aid in that quest of Diana's, by moving to California and assist with the creation of Merriewold Morgans.

My main motivation for my work is built into my soul...the desire to be associated with horses.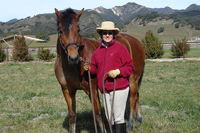 Jackie Brittain

Honors & Qualifications:

Multiple Championships with many breeds of show horses and riding disciplines.

---

Qualified four times for Madison Square Gardens Saddle Seat Equitation Finals

---

Side Saddle Champion.

---

Bachelors Degree in Animal Science.

---

Thoroughbred Trainer's Licenses in New Jersey, New York, Kentucky, Louisiana and Florida.
Read all about Diana, Merriewold Morgans Owner, here...