Merriewold Gaysha's Profile & Pedigree
2004 Bay Mare, Merriewold Maiden Broodmare, In Training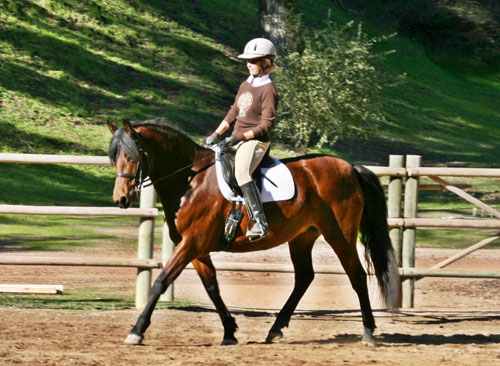 Gaysha is a wonderful example of the ideal Morgan mare. She exudes the traits we breed for at Merriewold: beauty, athleticism and sweet disposition. Gaysha is the daughter of World Champion (and our best mare), Majesty My Fair Lady who has been a top producer for Merriewold. She is by World Champion WH Zimbabwe who is known for his exotic beauty.
Gaysha is 'all Morgan', from her little tipped ears and arched neck to her long luxuriant mane and tail. She is very feminine and has the happy, cooperative personality that is also a Morgan trait.
Jackie started and trained Gaysha and has said many times, that if she has had a difficult session with another horse she gets on Gaysha to remember how nice a Morgan can be. Diana is now riding Gaysha and is thrilled to be"back in the saddle". Because of her wonderful disposition, Gaysha will be a fun trail and pleasure horse for Merriewold.
She has recovered from a life threatening accident. Read Gaysha's Story.